New Doll Activity----9/Oct/2018-22/Oct/2018
Activity 1:
10% off for the Red King fullset
12% off for two fullset dolls(the White King or the Red King).
Activity 2:
5% off for the Red King nude doll
10% off for two nude dolls(the White King or the Red King).
*This new doll activity can not be combined with Halloween Activity.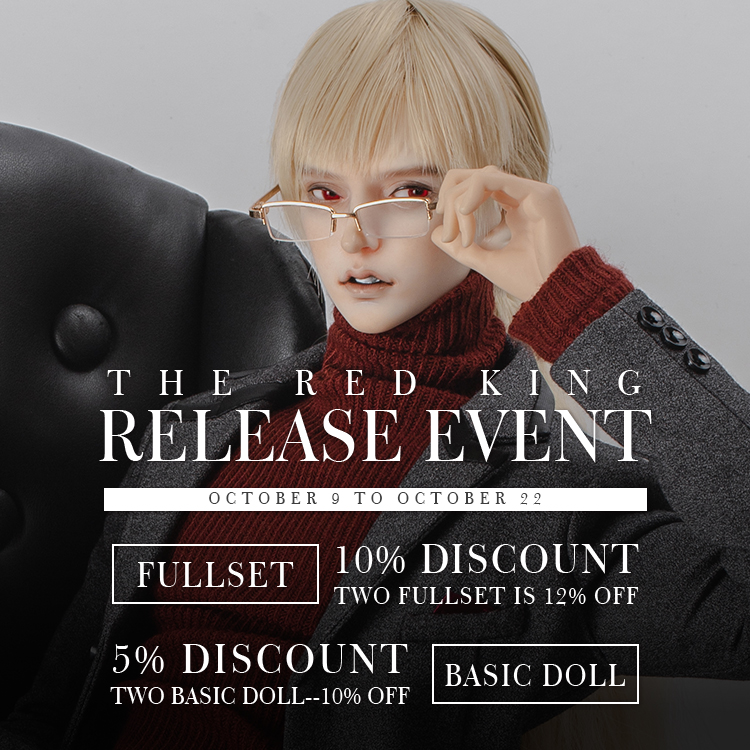 Fullset includes:head(RGM36)+officalmakeup+body(RGMbody-3)+wigs(Rwigs60-88)+eyes (Re-41)+outfit(Rc70-83)+shoes(Rshoes70-32)
The Outfit can be purchase separately, which is value 135usd.
Remarks:
1.Head: RGM36;
2.Body and resin color in pictures: RGMbody-3, normal skin;
3.Optional skin color:Normal/white/tan/wheat skin.
Optional body:RGMbody-1/RGMbody-2/RGMbody-3/RGMbody-4.
4.The make-up on tan skin will be different from the one on white skin and normal skin due to its speciality.
5.Layaway is acceptable.For more,please email to: sales@ringdoll.com.
6.Acrylic eyes will be shipped with the basic doll radomly.
7.It takes 120-180 business days for production before shipment, if the cloth and the accessories is more complicated, the time will longer , please understand.
The color in the image will be slightly different from the actual product.
---------------------------------------------------------------------------------