Activity1:Before 26 July 2018, the first 20 people buy fullset and cloth, you could enjoy 10% off .
Activity 2:If you have bought the fullset and basic doll of Akaoni or Akaoni styleB, you could enjoy 20% discount for the cloth of Scarlett (Akaoni) Faust (please give us the screenshot of the order)
*The fullset don't include the folder and book, the folder and book don't sell.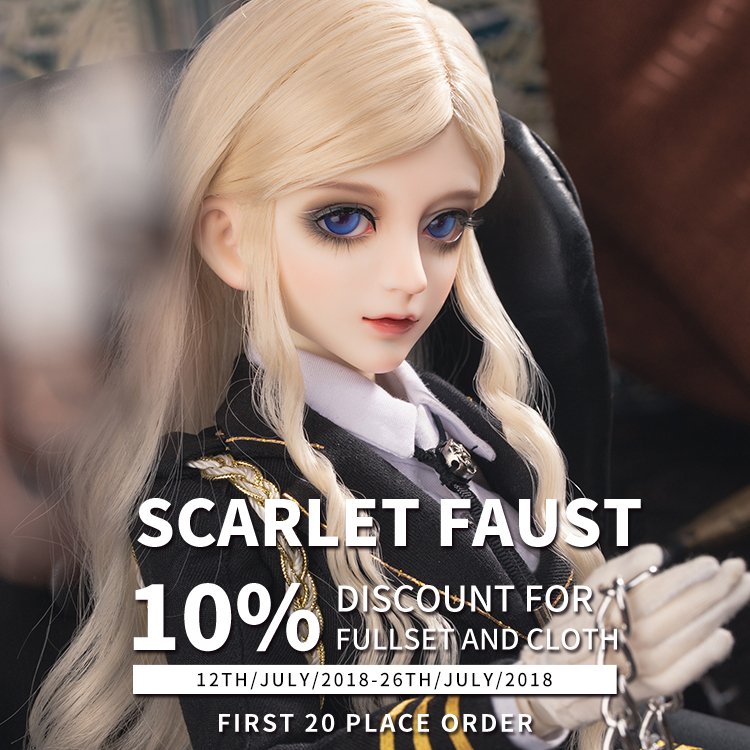 Fullset includes:head(RTG11)+offical makeup+body(RTG60-1)+eyes(re-56)+wigs(Rwigs60-81)+outfit(Re60-99)+shoes(Rshoes60-34)
Remarks:
1.Head:RTG11;
2.Body and resin color in pictures: RTG60-1, normal skin;
3.Optional skin color:Normal/white/tan/wheat skin.
Body option:RTG60-1/2/3
4. Fullset is not include folder and book, the folder and book don't sell.
5.The make-up on tan skin will be different from the one on white skin and normal skin due to its speciality.
6.Layaway is acceptable.For more,please email to: sales@ringdoll.com.
7.Acrylic eyes will be shipped with the basic doll radomly.
8.It takes 120-180 business days for production before shipment, if the cloth and the accessories is more complicated, the time will longer, please understand.
The color in the image will be slightly different from the actual product.
---------------------------------------------------------------------------------
RD launched a confirmation service , anyone who pick up RD dolls will receive a confirmation mail in one week. Specific
?
click here
?